May 25, 2020
Selling your out-of-date laptops, smartphones and other electronic gadgets is the easiest way to bring extra money to your pocket and offset the cost of new devices. What if your old models are broken? You probably want to send them straight to the recycling center. Don't you know that even broken electronics can bring in a little cash? Before you recycle, check out these options to sell broken laptop. You cannot get as much as you would like to, but it also can be useful.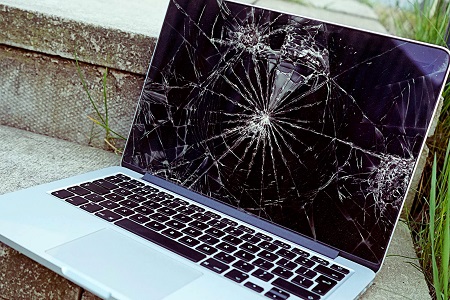 List of ways to sell laptop:
Sell Broken Laptop In Person -Â This method is still popular for people who want to skip the hassle of shipping their broken electronics. Of course, they selling to an individual or dropping the item off at a resale kiosk. Here are a few places to find a buyer. The most popular of them where you can sell broken laptop are:
Craigslist - It's free to post ads on Craigslist, but you'll have to deal with meeting prospective buyers and handling the transaction yourself. To better your chances of having a successful sale, be descriptive in your ad and include attractive pictures. Craigslist allows up to four photos.
Garage sales - If you have a used items to sell, why don't you make a garage sale and get rid of everything in one weekend? If you need some help, you may find some tips online.
Local resellers -Â Local laptop repair businesses might be interested in buying your electronics for parts. Try calling a few and asking what they would pay.
EcoATM - If you have a broken or old cellphone, ecoATM can give you cash for it. You plug in the information for your phone, ecoATM gives you a value, and you get the cash as soon as you drop the phone in the machine. Use the ecoATM location finder to see if there are any machines in your area.
Sell Online - Private selling often means waiting for a bid to have a successful deal. How much can you wait? Your laptop is getting older day by day, though cheaper. The world popular trade locations are:
Sell on eBay - To get an idea of what you might earn from an eBay auction, use the search function to hunt for devices like yours. There is nothing difficult. Just remember, eBay charges a few fees for their service. Use the fee calculator to get an idea of how much you have to pay. Everything other depends on you.
LaptopNuts.com - This is an electronics reseller that is ready to buy just about anything from a GPS to an iPad, you can even sell broken laptop. You'll get an estimate of your resale value, but you'll have to wait for the cash. You have to ship your item and wait until it will be inspected before you are paid. Nevertheless, you can choose to be paid through PayPal to speed things up a bit.
Depstar.com - Have a broken iPhone? Depstar.com says it will buy any iPhone, working or not. It will also buy other electronics. The site offers payment through check or PayPal. Start by getting a quote on the site.
CashItUsed.com -Â CashItUsed will take almost any electronic device, even if it's broken. Check out the Gadget Salvation site to get a quote on your broken gadgets.
SellLaptopBack.com -Â Gazelle is primarily interested in smartphones and Apple devices. It offers a 30-day price guarantee and accepts broken gadgets. If your device is something the site is looking for, you can request a quote by choosing the brand on Gazelle's home page. If you accept the offer, you'll get paid by check, PayPal or Amazon gift card.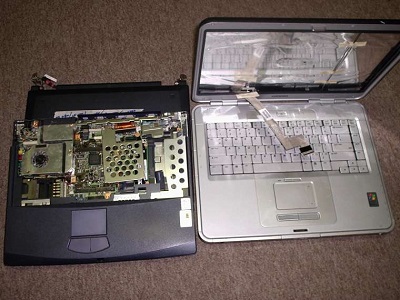 The Guide to Sell Laptops Online
First, it is important to say that you are not obliged to sell your laptop if it is in a good working condition. Actually the opposite; you may try to keep your laptop as long as it serves its purpose for you.
If you use your laptop for work and need a newer, better, faster machine for more demanding software, it is ok. Maybe your laptop is old and you really do need a new computer to upgrade? Maybe, you want to sell broken laptop to get some money to make the first payment for the newest laptop model. Everything happens. Try to find a good online platform to be offered with the most convenient way to sell laptop online.
Your laptop can be useful even when it is broken.
Check the display and other visible defects. It is better to clean the display to make your laptop, even broken, more attractive.
Check the ports and connections. You can also check the USB and video ports, WiFi and Bluetooth.
Check the hard drive condition. If your laptop is working, you can test the disk with the help of Windows, CrystalDiskInfo Portable. Even if your item is out of order, the hard drive can be still ok. You have to check it separately.
Check the laptop memory. You can download the free Memtest or use special Windows diagnostics.
Check the battery and charger.
Check the passwords. You have to delete all passwords (BIOS, Windows and others).
If your laptop is still working but it has problems with the hard drive or memory, you have to lower the price and appoint all defects to your seller. Otherwise, you may have your laptop back in few days and request to give the money back. If the laptop is broken, try to describe what parts are still good to use.
Wrapping. Of course, if you sell you laptop to the special service, you don't need to wrap it specially. If you are going to send it to buyer, try to make your laptop to look presentable.
Charging. If the device is working, try to charge it up to be well checked.
Data control. It is not important if the hard drive of your laptop is out of order. If not, try to use special program to copy all your personal information to the copy disk.