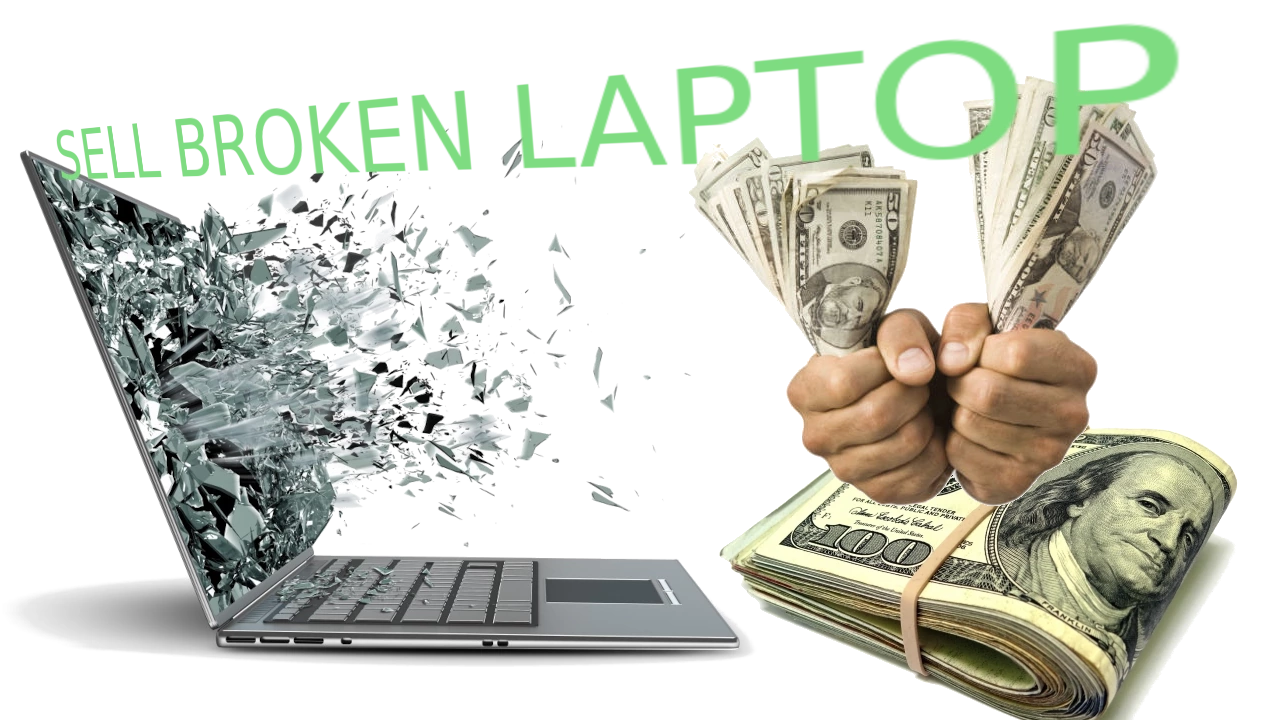 If your laptop is broken, the things become worse. But don't feel sorry, everything old can be new again. So, let's focus on your laptop. If it is slow or virus-infested, you might be surprised at how much more life you can squeeze out of it. At last, you can sell broken laptop by parts and get some use.
But first, assess you laptop condition
You really need to define what is broken and which parts are still working to trade with. What is the problem? The bum hard drive, a cracked screen or missing/broken keyboard keys can be easily repaired. It's not difficult or expensive to replace a hard drive, but obviously it needs some money for reparation.
But if the hardware is still good, you've got lots of options. The most obvious one: reformat the hard drive and reinstall Windows. In fact, assuming the machine runs an older version of Windows, it might not even be wise from a security standpoint. The best variant is Windows 10. You have two available variants: to repair your broken gadget and sell it or sell your broken laptop for cheaper price.
First, it is important to say you shouldn't sell your laptop right now. You don't need to sell your laptop and get a new one every time the newest model comes out. Actually the opposite; you keep it in order and the gadget serves its purpose for you. If you use your laptop for work and need a newer, better, faster machine for more demanding software, it is time to think of selling it. Maybe your laptop is old and you really need a new computer to upgrade? Maybe your machine is broken and there is no sense to repair it. So, your job is finding the most convenient way to sell laptop online. You come closer to the subject of trading your laptop if you really need to.
Of course, if you want to get more money for your laptop, you must keep it in order. Cosmetic wear and other slight issues may help your laptop to look like a new. But it is not new! You should remember that for not to make the price higher.
A protective sleeve on a laptop is always a good idea, especially for the expensive models. It is a common problem of all used devices to have scratches and dents on their body.
Look at your computer from the customer's perspective. What do you want to see? What programs, apps, condition? It doesn't matter, whether your machine is broken or not, you need to do a full check of it to make the real competitive price. Trading your laptop on your own, from Craigslist, list it on eBay, you should pay much attention of laptop condition. If you want to sell broken laptop online to recycler, experienced managers can help you to check your gadget from head to foot.
Check your laptop before sending it for trade or sale:
Check the laptop display (LCD screen):
If it doesn't have dead pixels and discolorations, it could have blemishes from moisture damage in case you often use it in the bathroom or kitchen. There is a good idea to wipe the screen down and check it for scratches and cracks that are difficult to see under the protective dirty layer.
Other LCD screen/display defects to look for:
CRT displays no image
CRT flashes one color intermittently, even when the screen is blanked
CRT emits a very high-pitched squeal
Image flickers
Image is scrambled
Image displays rectilinearly, but is incorrectly sized or aligned on screen
Image wavers or shimmers periodically or constantly
Colors are "off" or smearing appears in some areas
Check all other broken laptop screen cases
Test all ports and connections:
Use special external devices to test USB ports and video VGA/HDMI/micro-HDMI ports. Also it is necessary to test WiFi and Bluetooth connections.
Some other broken laptop ports tests and issues to look for:
Ethernet connection. Make sure all clips are in tact. Use cat6 cable to the network switch to verify if ports are functional.
Check all the usb ports. Look for bend, broken connection leads.
Check specialty ports, those are firepower, usb-c, fast charging port etc.
Verify power port is not dirty or has any extra residue in the slot
IO ports, those are HDMI, mini-HDMI, Display port etc
Check hard(HDD) or solid state(SSD) drive:
You can test your drives in Windows by using Microsoft Computer Manager or 3rd party software like CrystalDiskInfo Portable. With older laptops drives, when you hear a noise from the hard drive bay, your hard drive is going bad. If your hard or solid state drive doesn't work, you should find out whether it is the only one breakage your laptop has!
Test laptop operating memory(RAM):
You can download a free version of Memtest or use the Windows memory diagnostic tool to check laptop memory state, working condition and performance. Make sure it's not broken!
Test lithium battery life and the charging is working:
Type at Windows Start Menu -> "Windows Mobility Center" and look for "Battery status", it should read 100% when charged. Also make sure the power jack doesn't lose power connection when you move the laptop around.
For more advanced users. Check your battery and the AC adapter voltage with multimeter. The working battery should input a little more then 19 volts and same for the AC adapter charger.
Passwords:
Don't forget to erase all passwords such as BIOS, Windows, HDD etc. Otherwise your laptop may become useless for the next user!
Condition:
Online sales help to save time and money. If your old but still working laptop computer is good, you can try to sell it on eBay or trade to laptop buyback online service. If it is broken, you can try to sell laptop by parts on eBay or trade to the same online service all together. The first variant gives you more money, the second variant gives a strong guarantee to be paid.
Include your charger:
Remember to include the charger to help the next person to use the laptop you sold or.
Clear your data:
Before you ship it off, wipe the hard drive if it works or do a full system reset so you don't pass your private data to the next buyer.
Why Sell Broken Laptop Online?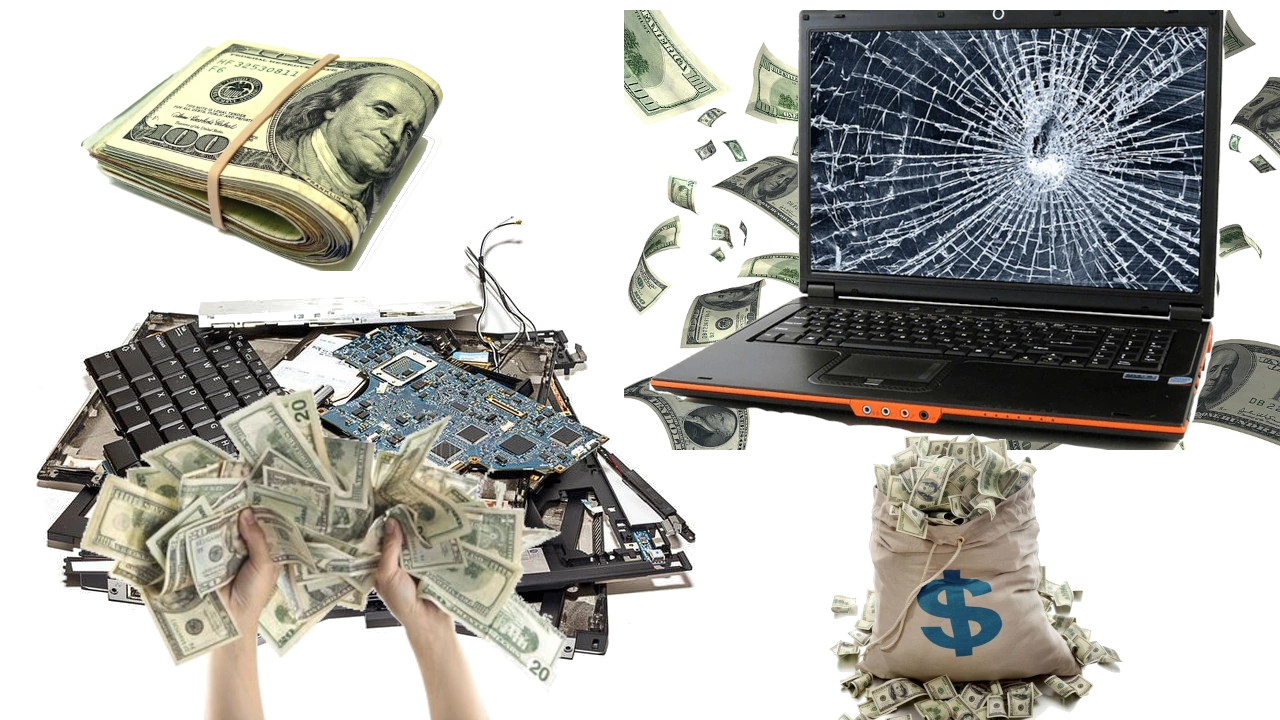 As it was said before, broken laptops are good to sale to online companies that are always ready to buy broken laptop, working machine or recycle. You don't need to worry about your private data getting into the wrong hands. If your hard drive is working, they clean your data permanently for free as this is a part of their service.
They test your laptop to name the price of it. You may agree or disagree. You don't need to wait for long to determine what your laptop is worth. The shipping is usually free but it depends on the service you are dealing with. You get paid fast to get cash or e-money, as you want. It is better to discuss the way of payment beforehand. As a rule, you can find the information about all available payment methods from the website.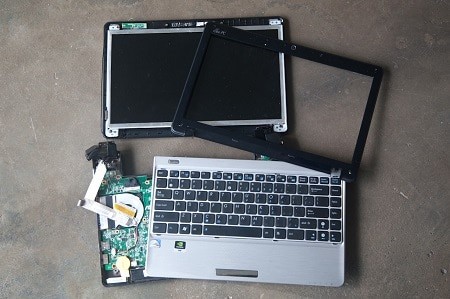 Sell your laptop today and give you a chance to show how wise customer you are. It is better to choose the easiest, fastest, and profitable ways to sell broken laptop online. Have you already chosen the service you like? Spread the word!